Yes, folks. In this post, there will be no mention of my totsicles, my ovaries, my period, or anything else even remotely fertility related. After that disclosure, of course. I couldn't tell you that I wasn't going to discuss something without telling you what it was that I wasn't going to discuss!
Here goes: I've been crafting! Just a little tiny bit of crochet, but it's something.
Last winter, a friend asked if I would make a hat for her daughter. By the time the yarn was purchased and I got a head measurement, the colder months were long behind us. It was decided that April was quite warm for a winter hat in Louisiana, and the project was put off until now. After much fussing about, and me convincing the child's mother that this half-finished blob was
not
a boobie cover OR a yarmulke, a hat was born. (That doesn't count as a baby reference.) So, without further ado: Ta-Da!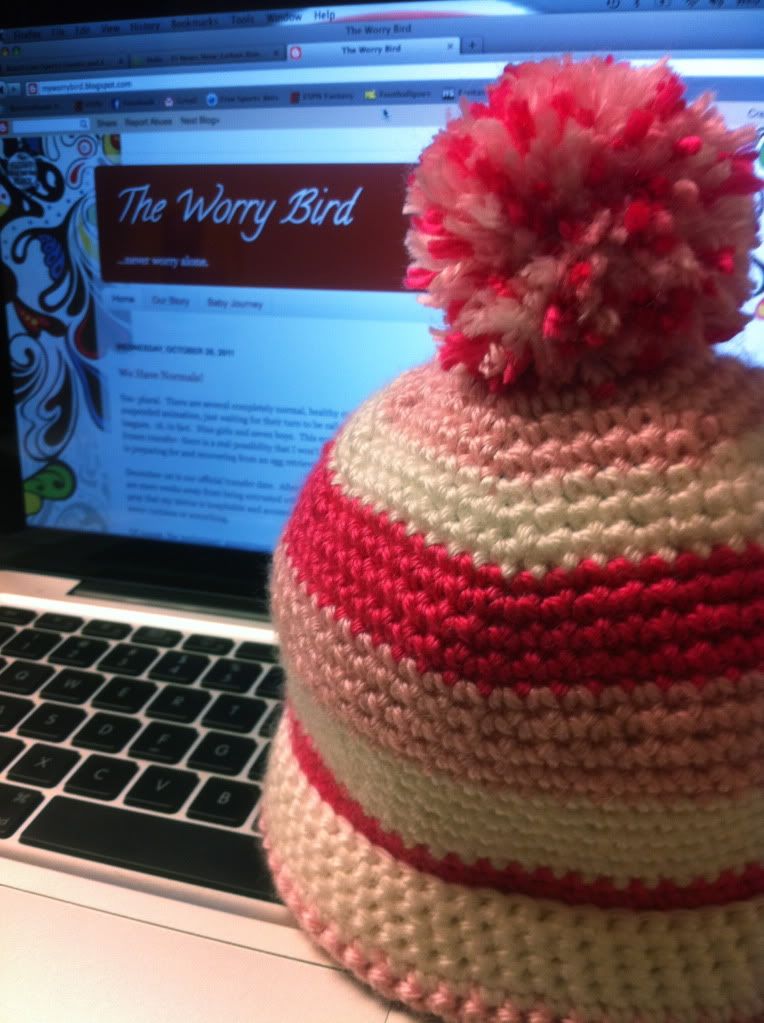 There are so many little quirks about this hat... the seam where the rows are joined is visible (how the heck do you avoid this stinking seam?!):
Check out that twisty seam!
And... I have no earthly idea if the hat will even fit this child. I can say with certainty that it doesn't fit me, so I'm keeping my fingers crossed that it works. I'm probably overly critical of my own work, but it will do. It's the first toddler hat that I have made, so it was a learning process. Babies are so much easier to crochet for!
There are other crafty goings-on at my house, but I
am too lazy
haven't had time to take pictures. So I suppose they'll have to wait!
For the curious: the hat was worked in joined rounds of single crochet on a 5mm hook without a pattern. I used Caron Simply Soft yarn. The smaller hook and short stitch made the fabric slightly more "rigid" than I'd have liked, but you live and learn. It's still pretty soft and squishy. I'm sizing up to a 6mm hook for the next one, though!
Update: Its fits! And she looks adorable in it. Woohoo!